Chloe Vevrier » Boob Cruise 1997
Unable to play the trailer? Try one of these:
MP4 480X360
Chloe was the hula dancer of SCORE's 1997 Boob Cruise. In this scene from the video of the same name, Chloe's posing as a hula girl is interwoven with the controlled chaos of this girl-loaded voyage in the Caribbean sea. This third Boob Cruise set sail on March 30, 1997 from Barbados. The new ship was the Star Clipper, a beautiful, steel sailing ship. A massive 21 models were on board. There were over 100 SCORE readers and two dozen SCORE staffers.
August 19th, 2010
10:25 mins
Rating
Download Options
Full Scene Download
Five-minute Clips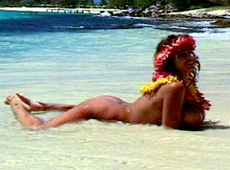 More Chloe Vevrier Videos